7 new must-read YA books
It's no secret that I love to read. I love to read to pass the time, to procrastinate, to escape, to laugh, to cry, to experience something new. The last few months, I've read several books that left me speechless at the end. From stunning stories, to gripping characters, to prose that takes my breath away—it's been a good few months of reading.
I tend to go through phases with my reading, and lately I have been inhaling Young Adult novels. There are a few reasons for that. Most of the friends I've made in the online writing community are YA authors, so I have bought a lot of their books to support them. I also feel like there are more exciting and fresh stories coming out of YA, from voices that have previously not been given a platform—particularly from mainstream publishers.
I don't have time to review all the books I've read that I have loved in the last year, so if you're ever curious what I've been reading and enjoying, please check out my Goodreads page. Now, here are the 7 new must-read YA books I think should be on your shelf:
Arguably one of the most highly anticipated Young Adult books of the year, Tomi Adeyemi's sweeping West African fantasy has all the elements of a fantastic read: memorable characters, a twist-and-turn plot, and an important message. I soaked up every word and can't wait for the next one.
Goodreads Summary:
Zélie Adebola remembers when the soil of Orïsha hummed with magic. Burners ignited flames, Tiders beckoned waves, and Zelie's Reaper mother summoned forth souls. 
But everything changed the night magic disappeared. Under the orders of a ruthless king, maji were targeted and killed, leaving Zélie without a mother and her people without hope.
Now, Zélie has one chance to bring back magic and strike against the monarchy. With the help of a rogue princess, Zélie must outwit and outrun the crown prince, who is hell-bent on eradicating magic for good. 
Danger lurks in Orïsha, where snow leoponaires prowl and vengeful spirits wait in the waters. Yet the greatest danger may be Zélie herself as she struggles to control her powers—and her growing feelings for the enemy.
This book just stole my heart! I adore Maya and I want her to win—exactly how I love to feel about a main character. That Ahmed is able to write a book that both wraps you up in an embrace while holding a mirror up to the ugliest and most hateful parts of our world is an impressive feat. This is such a timely, important book for this generation—although I can't help but hope it will find its way into the hands of many people from older generations as well.
Goodreads Summary: 
American-born seventeen-year-old Maya Aziz is torn between worlds. There's the proper one her parents expect for their good Indian daughter: attending a college close to their suburban Chicago home, and being paired off with an older Muslim boy her mom deems "suitable." And then there is the world of her dreams: going to film school and living in New York City—and maybe (just maybe) pursuing a boy she's known from afar since grade school, a boy who's finally falling into her orbit at school.
There's also the real world, beyond Maya's control. In the aftermath of a horrific crime perpetrated hundreds of miles away, her life is turned upside down. The community she's known since birth becomes unrecognizable; neighbors and classmates alike are consumed with fear, bigotry, and hatred. Ultimately, Maya must find the strength within to determine where she truly belongs.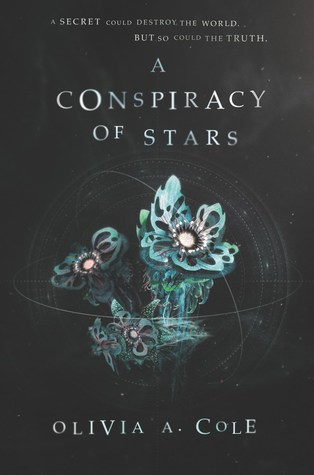 The world-building. The characters. The premise. It all just WORKED and I lapped it up. This book tackles issues of class, colonization, environmentalism, capitalism, and science in a masterful way. I've recommended this book to so many people already. One of the best sci-fi novels I've read in ages.
Goodreads summary:
Octavia has only ever had one goal: to follow in the footsteps of her parents and become a prestigious whitecoat, one of the scientists who study the natural wonders of Faloiv. The secrets of the jungle's exotic plants and animals are protected fiercely in the labs by the Council of N'Terra, so when the rules suddenly change, allowing students inside, Octavia should be overjoyed.
But something isn't right. The newly elected leader of the Council has some extremist views about the way he believes N'Terra should be run, and he's influencing others to follow him. When Octavia witnesses one of the Faloii—the indigenous people of Faloiv—attacked in front of her in the dark of night, she knows the Council is hiding something. They are living in separate worlds on a shared planet, and their fragile peace may soon turn into an all-out war.
With the help of Rondo, a quiet boy in class with a skill for hacking, and her inquisitive best friend, Alma, Octavia is set on a collision course to discover the secrets behind the history she's been taught, the science she's lived by, and the truth about her family.
"Sometimes people need reminding that they matter, more than they need reminding that they're alive, because sometimes being alive just isn't enough."
I could not put this book down—devoured it in two days, spending the latter half mostly in tears. Coles has a way of slipping these lines into his prose that are just so poignant and visual, it's like a punch to the chest.
"I tell myself that I love this skin, that I've always loved my blackness, that if the world doesn't love me, I will love myself for the both of us."
Goodreads summary:
When Marvin Johnson's twin, Tyler, goes to a party, Marvin decides to tag along to keep an eye on his brother. But what starts as harmless fun turns into a shooting, followed by a police raid. The next day, Tyler has gone missing, and it's up to Marvin to find him. But when Tyler is found dead, a video leaked online tells an even more chilling story: Tyler has been shot and killed by a police officer. Terrified as his mother unravels and mourning a brother who is now a hashtag, Marvin must learn what justice and freedom really mean.
This is one of the most gorgeously written books I have ever read. For me, it's made all the richer knowing that McCullough spent years writing and had many manuscripts before it that were never published. As a reader, I could tell that she poured her heart and soul into this novel. Told largely in verse, the fictionalized retelling of the true story of painter Artemisia Gentileschi hooked me from the first sentence to the last. I read the book in less than two days, and can tell that I will be reading it again and again.
Goodreads summary:
Her mother died when she was twelve, and suddenly Artemisia Gentileschi had a stark choice: a life as a nun in a convent or a life grinding pigment for her father's paint.
She chose paint.
By the time she was seventeen, Artemisia did more than grind pigment. She was one of Rome's most talented painters, even if no one knew her name. But Rome in 1610 was a city where men took what they wanted from women, and in the aftermath of rape Artemisia faced another terrible choice: a life of silence or a life of truth, no matter the cost.
He will not consume
my every thought.
I am a painter.
I will paint.
I will show you
what a woman can do.
This book was so stunning. The characters are dynamic, empathetic, flawed, and complex. I loved peeking inside the lives and relationships of these twin sisters as they navigate their passions, post-high school future, Jewish faith, terminal illnesses, romance, and more. All of this while trying to sort out who they are to each other as sisters. I loved it.
Goodreads summary:
Eighteen-year-old twins Adina and Tovah have little in common besides their ambitious nature. Viola prodigy Adina yearns to become a soloist—and to convince her music teacher he wants her the way she wants him. Overachiever Tovah awaits her acceptance to Johns Hopkins, the first step on her path toward med school and a career as a surgeon. 
But one thing could wreck their carefully planned futures: a genetic test for Huntington's, a rare degenerative disease that slowly steals control of the body and mind. It's turned their Israeli mother into a near stranger and fractured the sisters' own bond in ways they'll never admit. While Tovah finds comfort in their Jewish religion, Adina rebels against its rules.
When the results come in, one twin tests negative for Huntington's. The other tests positive.
These opposite outcomes push them farther apart as they wrestle with guilt, betrayal, and the unexpected thrill of first love. How can they repair their relationship, and is it even worth saving?
Okay, this is a little bit of a cheat because I'm only halfway through this book, but I just couldn't leave it out. This is an engrossing, sensory feast of a novel and I am actually trying to read it slowly to savor it. But I have absolutely no qualms about putting it on my list of must-read books, and I hope that you'll check it out.
Goodreads summary:
Leigh Chen Sanders is absolutely certain about one thing: When her mother died by suicide, she turned into a bird.
Leigh, who is half Asian and half white, travels to Taiwan to meet her maternal grandparents for the first time. There, she is determined to find her mother, the bird. In her search, she winds up chasing after ghosts, uncovering family secrets, and forging a new relationship with her grandparents. And as she grieves, she must try to reconcile the fact that on the same day she kissed her best friend and longtime secret crush, Axel, her mother was taking her own life.
Alternating between real and magic, past and present, friendship and romance, hope and despair, The Astonishing Color of After is a novel about finding oneself through family history, art, grief, and love.